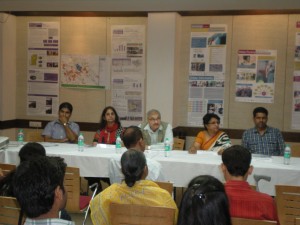 People Building Better Cities: Participation and Inclusive Urbanization – is an exhibition and exchange platform for communities, urban professionals, universities, non-governmental organizations, and policy makers on the challenges of inclusive urbanization and climate change.
In Delhi, the exhibition will be shown in English and Hindi from October 4 – 18, 2013. The English exhibition will open at School of Planning & Architecture (SPA), with a panel discussion themed "Rethinking Urban Informality: Ideas for an Inclusive City". The Hindi exhibition will be mobile and is being hosted in six different locations across Delhi by members of the Forum of Informal Urban Poor Workers (FIUPW) with community-led local programs at each venue. 
October 4, Friday: EXHIBITION OPENING in English
School of Planning & Architecture
SPA, New Committee Room, 4-Block-B, Indraprastha Estate, New Delhi
9:30-10:00 Doors open
10:00-10:30 Exhibition opening & interactive walkthrough
10:30-11:00 Tea Break
11:00-13:00 Panel Discussion with Q&A
'People Building Better Cities: Rethinking Urban Informality – Ideas for an Inclusive City' 
13:00 onwards Lunch and exhibition display
Moderator
Prof. Chetan Vaidya, Director, SPA
Panelists
Prof. Neelima Risbud, Head, Housing, SPA
Prof. Jagan Shah, Director, NIUA (TBC)
Mr. Manoj Rai, Director, PRIA
Mr. Dharmendra Kumar, Secretary, Janpahal (TBC)
Ms. Isabelle-Jasmin Roth, Managing Director, Avantgarde India (TBC)
___________________________________________________________________
TRAVELING EXHIBITION in Hindi
The Hindi exhibition will remain open from 11:00 to 17:00 at the dates and locations provided below
October 7, Monday and 8, Tuesday
Janpahal Shelter for Homeless with Janpahal and India FDI Watch
Directions: Nehru Enclave-Akshardham Flyover, Shakarpur. Nearest metros – Akshardham, Laxmi Nagar and Yamuna Bank
Inquiries: Mr. Dharmendra Kumar, Secretary, Janpahal & Director, India FDI Watch
dkfordignity@yahoo.co.uk , janpahal@gmail.com
October 9, Wednesday and 10, Thursday
Baljeet Nagar with HAQ 
Inquiries: Mr. Abdul Shakeel, Coordinator, HAQ
shakeel4peace@gmail.com, haq.delhi@gmail.com
October 11, Friday and 12, Saturday
Seemapuri with All India Kabadi Mazdoor Mahasangh 
October 14, Monday and 15, Tuesday
Rohini with All India Rickshaw Pullers Association
Oct 17, Thursday, and 18, Friday
B-5 Vasant Kunj with Jhuggi Jhopri Ekta Manch  
__________________________________________________________________
'COMMUNITY ADDAS'
A series of themed chat sessions at each venue, with local stakeholders and community members will be held between 11:00 – 13:00, on the following dates. Refreshments will be arranged by the hosting community.
October 8, Tuesday 
'Urban informality and the homeless'
Chair 
Mr. Dharmendra Kumar, Secretary, Janpahal
Key Speakers
Dr. Amod Kumar, Chief Functionary, State appointed Mother NGO for Homeless
Ms. Ambika Pandit, Journalist, TNN (TBC)
Mr. H.S. Rawat, Co-Convener, Hawkers Joint Action Committee
___________________________________________________________________
EXHIBITION PARTNERS
Society for Participatory Research in Asia (PRIA)
National Institute for Urban Affairs
School of Planning & Architecture, Delhi
Janpahal
India FDI Watch
HAQ
All India Kabadi Mazdoor Mahasangh
All India Rickshaw Pullers Association
Jhuggi Jhopri Ekta Manch